Why I Became a Financial Advisor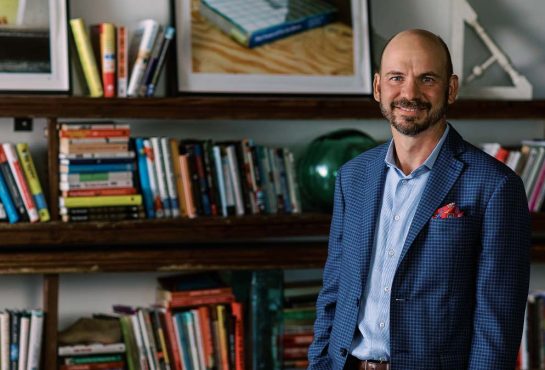 By Russell Holcombe, MTx, CFP®
Do you know how hard it is for an ambitious 8-year-old to find a job? Thankfully, I was able to go to work with my dad (who had started one of the first financial advisory firms in Atlanta in the late 1970s), putting stamps on envelopes and making copies on a Xerox machine that would overheat and burn the edge of the paper if I was not careful. That's how my career in the financial industry began!
It wasn't all that glamorous, but my younger self loved every part of it, from putting stamps on envelopes to emptying trash to making copies. My dad was masterful at what he did, and seeing his work firsthand instilled a passion and curiosity in me that eventually led to me following in his footsteps.
I Had Arrived…or so I Thought
With my childhood work experience under my belt, I went off to college, earning a bachelor's degree in business administration with a focus in finance and real estate from Southern Methodist University. I came back to Atlanta to start my investment career working for my dad, ready to change the world. But I had a lot to learn. At that point in my life, I thought investments were the sole reason for personal success.
My dad was a master at financial triage. For some reason, people who found themselves in precarious financial positions ended up in his office. I had a front-row seat to see what it was that could make or break people's financial lives
I quickly realized that it was more than just an investment portfolio that changed people's lives. One can have the greatest investment portfolio, but poor personal financial decisions at home can upend even the best investment strategy. I became a financial advisor working in the financial ER, and it changed my perspective on how to design the best investment portfolio for each individual situation.
Fast-Forward to Today
Working for my dad, I learned the importance of building long-term relationships with clients and investing in their stories. Now, as CEO and strategist at Holcombe Financial, I get the ultimate privilege of seeing the pain of anxiety and fear evaporate from our clients' faces when they realize the pitfalls they have fallen into and the actionable steps they can take to pursue financial freedom.
Our proprietary process helps them stop wandering in the dark and start working toward a work-optional life. More than 25 years after walking into my father's office ready to change the world, I've realized that's impossible; but what I can do is help you think differently about your wealth, ask better questions of your financial advisor, and make empowered decisions.
I wrote the book You Should Only Have to Get Rich Once: How to Avoid Toxic Financial Advice and Focus on What Really Matters because it was far too common for me to hear about the failures of prediction-based financial planning. Just like my father, I found myself doing financial triage and wanted to help people who truly desired to do what it took to grow their wealth.
The Best Part
Eight-year-old Rusty had no idea what was in store for him when he begged his dad for a job. It turned out to be even better than I hoped for. There's just nothing like helping someone get their financial house in order and seeing their relief when they realize the value of having a plan and the benefit of having a guide and supporter in their court. The truth is, being a financial advisor doesn't feel like work. It's invigorating, motivating, and fun, and the best part is playing a role in my clients' stories and adding value to their lives.
What's Your Story?
Now that you know a bit about me, I'd love to hear your story. What are you looking for in a financial planner? What challenges do you currently face? Schedule a no-obligation introductory meeting to see how we can help by calling us at (404) 257-3317 or emailing hello@holcombefinancial.com.
About Russell
Russell (Rusty) Holcombe is the CEO and strategist at Holcombe Financial, a financial advisory firm serving entrepreneurs and corporate executives and managers. With over 25 years of experience, Rusty spends his days leading Holcombe Financial (a firm his father founded) and providing financial services that help his clients grow and protect their wealth so they can experience financial independence. Rusty is the author of You Should Only Have to Get Rich Once, which has won multiple awards, and created Holcombe Financial's proprietary financial planning software, which helps clients make smarter financial decisions.
Rusty earned a bachelor's degree in business administration with a focus in finance and real estate from Southern Methodist University and a master's degree in taxation from Georgia State University. He is also a CERTIFIED FINANCIAL PLANNER™ professional. In his free time, Rusty and his wife, Regina, tend to their personal farm and grow their own food. You can often find him pursuing his hobby of long-distance running. To learn more about Rusty, connect with him on LinkedIn.